(the MOF for close friends…)
Welcome back to
the 1st edition

of the Master of Fire 🔥
Want to
rekindle the fire?
THE FINAL COUNTDOWN

HAS STARTED!
A bouldering open in Brussels' newest bouldering spot: Le camp de base !
WHEN? 15th of October 2022
WHERE? Brussels
WHY? Because it's going to be epic!
Inscription has started and places are limited to 300 persons.
Not less than 50 boulders (from easy to extreme, green to yellow or Font5+ to Font8A) where all your skills will be tested! Perseverance, intelligence, power and style are strongly required.
Don't be shy, it's open to all climbers from very beginner 🐒 to Olympic medal winner 🦧
Only 6 ♀ and 6 ♂ will compete in 4 final's problems like in the old days format (4min+) and 3 specials guests to speak and put the music high :
X Dave GRAHAM 💎
X Sebastien BERTHE 🦩
X Lucas MORTILLET 🎤
→ Who will be the very first Master and Mistress of 🔥 ?
We will celebrate them with an after-party with the genius Ambassadeur Savon 🧼 to ignite the dancefloor!
50 brand new boulders from easy to extreme (green to yellow = Font5+ to Font8A?…):

🟢x4 🟠x6 🔵x7 🟣x10 🔴x10 ⚫️x7

🟡

x6
Each problem is worth 1000 points to be shared between the climbers. All the previous problems are validated if all the problems of a color are topped.

🎁 Raffle of gifts for all competitors.

 6 finalists climbing 4 finals' boulder problems like in the old days (4min+ format).

💰 10.000 € prize money for the podiums (2.500/1.500/1.000).

The complete rules of the MOF can be found HERE.
There is a 25 € entry fee for the competitors which must be paid on registration only. Tickets are nominative and will not be refunded or exchanged.

If completing a booking on behalf of someone else the initial section should be completed with the competitors details. Payment details are added at the end.

All competitors must be sufficiently experienced to climb without supervision and must have and insurance covering the risks related to his sporting practice and liability insurance.
GYM CLOSED
In order to organize The Master of Fire properly, the gym will be close on:
Tuesday 11/10 : 1/3 of the gym won't be accessible
Wednesday 12/10 : 1/3 of the gym won't be accessible
Thursday 13/10 : the gym is closed
Friday 14/10 : the gym is closed
Saturday 15/10 : the gym is open for participants and spectators
Sunday 16/10: the gym opens at 10am with new boulders only
The minimum age for competitors is strictly 14 years old on 15/10/2022. Please note there will be NO problems set for children. They will compete on the qualifying circuit as set for adults. Although the competition is a fun day, it is set for adults so please be aware of this if bringing your under 18 along to compete.

For minors not accompanied by a parent also participating in the competition,

a parental authorization will be required

and must be sent by email at mof@lecampdebase.be before 10/10/2022.
→ Parental authorization (English version)
→ Autorisation parentale (version française)
Two workshops + one talk: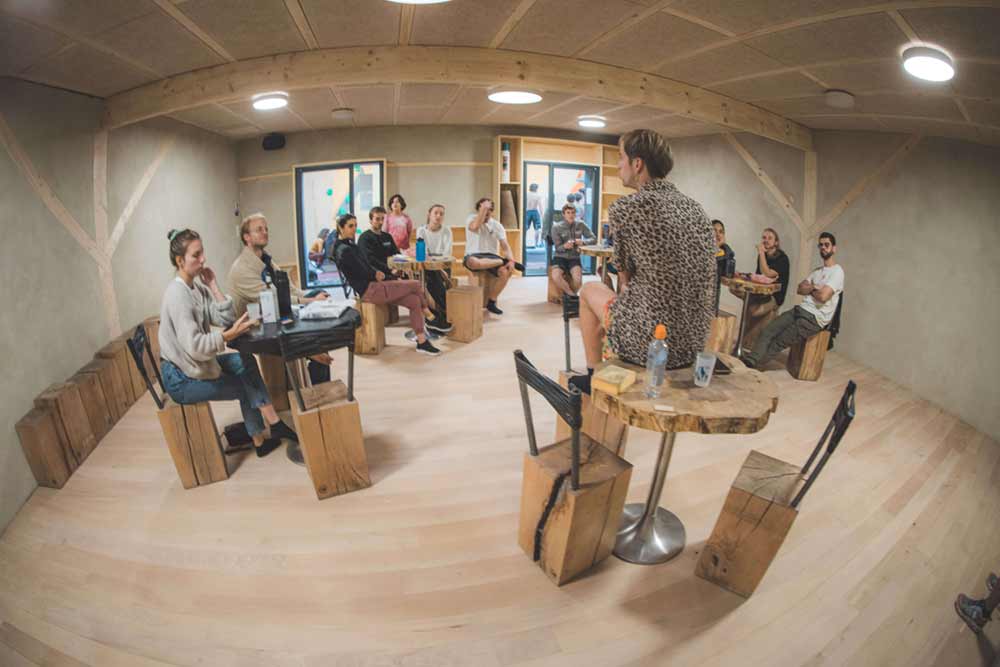 Some food trucks will be available from 12:00 to 20:00 and it will be only vegetarian for you little rabbits.
Address:
Le camp de base, Chaussée de Boondael 210 C, 1050 Brussels
Due to the already huge popularity of the event, there will be limited parking available in the street and we don't have our own parking lot.
❌ Our bicycle parking will be closed the whole day so try to park your bike in the street.
We would be honored if you would leave your scooters and bicycles (LIME, UBER, …) in the spaces provided for this purpose and not in front of the neighbors' entrance doors 🙏🏻
The best scenario is that you walk / cycle / get the bus, tram or train down or use some floo powder! If this isn't possible, then please try to lift share.
Partners
Friends
Sponsors
Partners
Friends
Sponsors
Thank you to our partners who trust and help us in the organization of this first edition ❤️
At 1km down the street is the historical mountain gear shop LECOMTE. The best place in Brussels to equip any passion related to the mountains!
They have been supporting us since the beginning of our journey and they keep doing so by preparing some surprises for the competitors…
Inscription has started and places are limited to 300 persons.
remaining before the competition.