The
Master of Fire

is back!
All results of the qualifying waves are available on etto-climbing.com
November 10th & 11th, 2023
The already iconic Master of Fire that is back for a second edition
 
If you want to have a taste of the 1st edition, click here!
SCHEDULE
FRIDAY NOVEMBER 10th 2023
Check-in for night wave | 17:30 – 18:15
Briefing | 18:20
Night wave | 18:30 – 22:00
 SATURDAY NOVEMBER 11th 2023
Check-in for dawn wave | 08:00 – 08:45
Briefing | 08:50
Dawn wave | 09:00 – 12:30
Check-in for dusk wave | 12:30 – 13:15
Briefing | 13:20
Dusk wave | 13:30 – 17:00
Finals | 19:00 – 21:30
Podiums and pre party| 21:30 – 23:00
After party (@secret location) | 23:30 – 04:00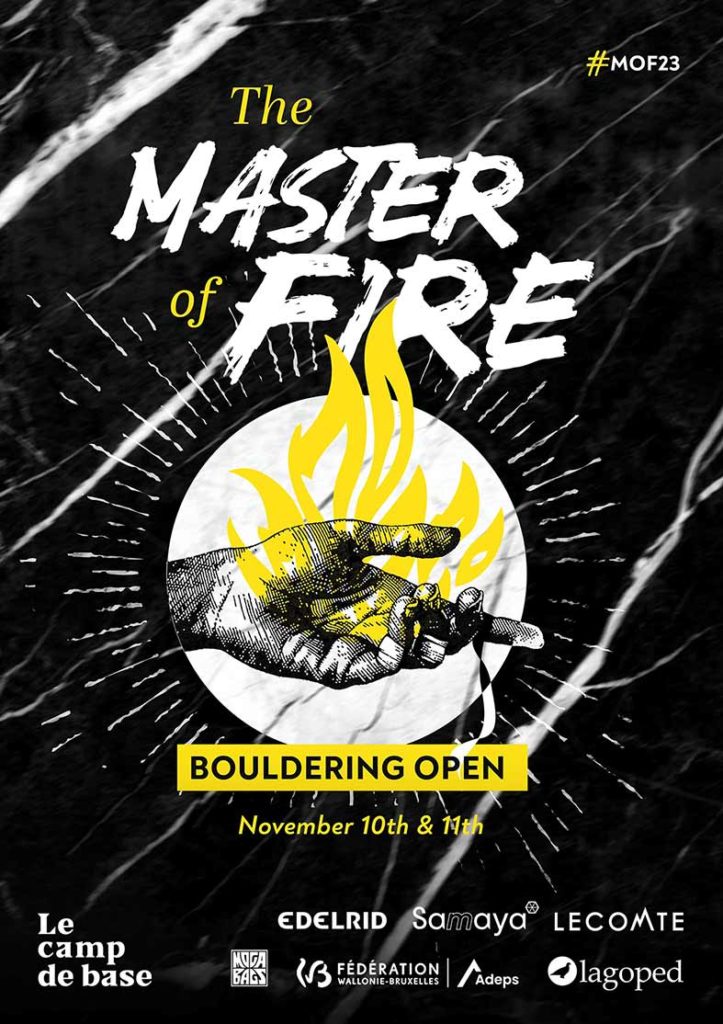 COMPETITION FORMAT
50 brand new boulders from easy to extreme (green to yellow = Font5+ to Font8A).

E

ach problem is worth 1000 points to be shared between the climbers. All the previous problems are validated if all the problems of a color are topped.

Raffle of gifts for all competitors.

6 finalists climbing 4 final's boulder problems like in the old days (4min+ format).

10.000 € prize money for the podiums (2.500/1.500/1.000).

The complet rules of the MOF can be found

HERE

.
PRICING
Competition ticket : €33

Final spectator ticket for participant : free

but ticket required when booking

Final spectator ticket for

non

participant : €7

After-party : €12

Early birds (climb&party) : €40

only 45 tickets available from July 1st
GENERAL
All competitors must be sufficiently experienced to climb without supervision and must have insurance covering the risks related to their sporting practice and liability insurance.
There is a €33 entry fee for the competitors which must be paid on registration only. Note that after payment, it will no longer be possible to change waves. Tickets are nominative and will not be refunded or exchanged.
When completing a booking on behalf of someone else the initial section should be completed with the competitors' details.
UNDER 18's
The minimum age for competitors is strictly 14 years old on 10/11/2023. Please note there will be NO problems set for children. They will compete on the qualifying circuit as set for adults. Although the competition is a fun day, it is set for adults so please be aware of this if bringing your kids under 18 along to compete.
For minors not accompanied by a parent also participating in the competition, a parental authorization will be required and must be sent by email at mof@lecampdebase.be before 01/11/2023.
AFTER PARTY
In order to allow us to polish the dancefloor until the end of the night, without disturbing our neighbors and to keep the gym clean, the after party will be organized in a place held in the greatest secrecy.
WORLD CUP CLIMBERS
Entry to the competition will be provided for all athletes with a top 50 IFSC Climbing World Cup 2023 Boulder ranking or Worldranking boulder.
Accommodation for the competition will be provided for all athletes with a top 15 IFSC Climbing World Cup 2023 Boulder ranking or Worldranking boulder.
Please contact mof@lecampdebase.be or Instagram@lecampdebase.bxl before 20/07/2023 if you're ranked 15/50 and would like to participate.
For all athletes, we strongly encourage not to travel by plane for this competition in order to preserve our planet. We will not participate to the accommodation costs of competitors who have traveled by plane exclusively for the MOF and this will also affect the prize money of the winners.
WATCHING QUALIS
Spectator for the qualis are allowed without ticket. For safety, they are not allowed to walk on the mats.
WATCHING FINALS
Finals will be a full show with light, dj, speaker and live stream.
Spectator tickets [SOLD OUT] for the finals round are €7,00 for non-participant (also people accompanying athletes need to have a ticket – national coaches can acquire a free ticket by sending an email to mof@lecampdebase.be).
All participants must have a free spectator ticket for the finals. It must be taken during the online registration process ONLY!
A big screen in the courtyard will display the Live for those who don't have a ticket.
LIVE STREAMS 2022 ON Youtube
MOF 2022 FINALS LIVE STREAM
MOF 2022 AFTER MOVIE
BELGIAN CHAMPIONSHIP 2023 FINALS LIVE STREAM
THE WEEK RUNNING UP TO THE EVENT
More info soon.
PRIVACY
By purchasing a ticket and attending the event, you consent to being filmed, photographed or recorded, and your name may be broadcasted or displayed publicly.
DINNER
Like always in our gym, the vegetarian and vegan diet will be the only options.
More info soon.
WORKSHOPS
More info soon.
TRAVEL INFORMATION – NO FLIGHT POLICY
Brussels and Le camp de base are very well served by public transport from all over Europe. We strongly encourage athletes to travel by bike, train or, as a last resort, car to come to MOF.
A carpooling platform has also been created for the event HERE
For environmental reasons, it is strongly advised to avoid taking the plane exclusively to come to the competition. The prize money of the athletes who have traveled by plane exclusively for the MOF may be reduced to €0,00.
NOT FOR PROFIT
Ticket sales will cover just over the half of the costs associated with running such a big international competition. We try to aim towards not losing too much money organizing this event. Good sponsoring will make the entry fee go down. We do it because we want to give something back not only to customers but the the competition scene in Belgium and Europe. This event will attract not only the best climbers in Belgium but also from Europe.
Climbing next to them or watching finals should hopefully get you even more psyched about your own climbing!
Partners
Friends
Sponsors
Partners
Friends
Sponsors